February is the month we get to explore the value of love in our life and all its many forms. We honor the love we find and then offer appreciation as we grow more. It forces us to take a moment and reflect if our time matches our intention. It's an emotional health check that truly allows us to know if we feel like we have 'enough'.
This is especially true with our MONEY.
It's easy to spend too much time focusing on all the things your bank account balance is not: not big enough, not helpful enough, not safe enough.
Yet much like in important relationships in our life, this constant criticism can add up to resentment over time.
On both sides.
It's important to see the seed of the possible in every dime in your bank account.
Yes, it may not be the cost of the plane ticket to Aruba you have your eye on.
It may not yet be the amount you want to put the deposit down on your dream house.
It might not even be enough to take yourself out for something nice for a change.
But it is the kernel of future that is waiting to be tasked on your behalf so you can grow your best life as a creative.
How so?
Take a journey with me….into the not~so~distant past…..aka Monday.
I woke up to find myself the proud owner of a flat tire.
It was smashed flat.
Of course, this sudden arrival was no real surprise to me since I had been timing the lifespan of my tires for quite some time.
Secret time, friends: I can be profoundly cheap when my eye is on other things.
While this can help in some ways, it is actually a MONEY MONSTER for us to explore another day.
So while this DOA tire was no surprise, it was not welcome either.
I had to find a solution stat.
As luck would have it, I had a few hours in the middle of my day to drive my three-wheeled car to the tire shop. Shout out, membership tire centers who take walk-ins!
One location couldn't find the tires I needed for my car but encouraged me not to wait for them to order them.
BOO.
So I nursed my wounded chariot to another location across town where I was assured the tires were in stock…
To find the wait was 2-5 hours.
EEEEEEP.
Significantly longer than the extended lunch window I had planned for this emergency operation.
But what could I do, my valiant steed was down for the count!?
So I showed them the bald tire of shame, handed over my keys, and reconciled myself to the fate of hours spent with nothing to do.
My personal nightmare, people.
And on a work day?!
Shoot me now.
So I bought an incredibly cheap hot dog and sat down to wait.
I watched the parade of mass consumption push their carts past my table.
Filled with applesauce, toilet paper, and massaging back cushions.
The best the American dollar can buy.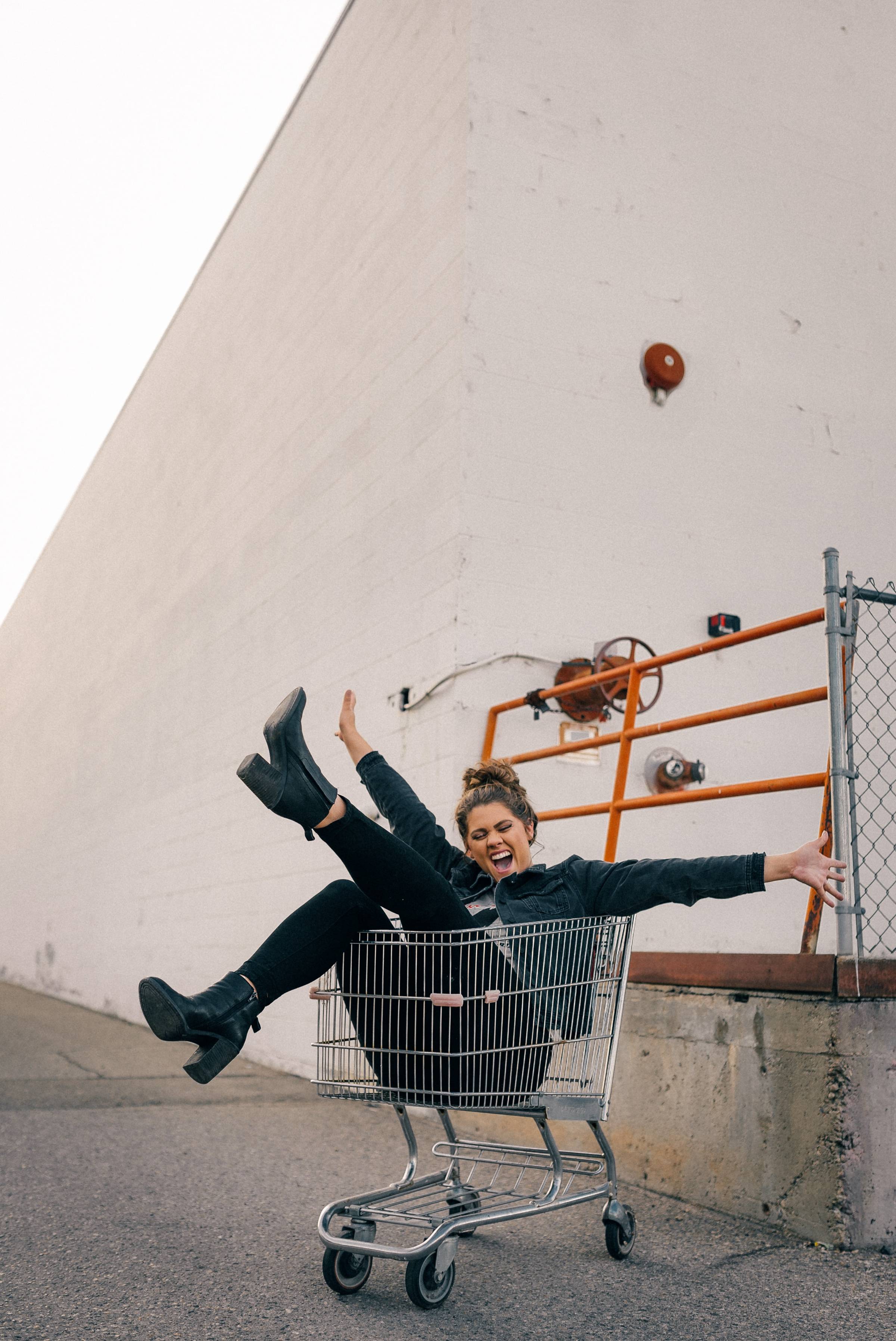 I looked at the faces of these customers, families & single men mostly (it was Valentines' Day after all).
Good people enjoying the sacred exchange of goods for value.
Buy the extra-large package ~ Problem solved.
Purchase 75% more ~ Pennies saved.
2 racks of ribs for less than your car payment ~ Dreams fulfilled.
LIFE IS GOOD.
Yet as I finished my $1.50 hot dog, I noticed that the battery on my phone was low. Too low for a five hour wait at the crossroads of consumerism.
I began to panic as I pictured dark moving in and I would still be there nursing a soda I don't drink.
No wifi. No cellphone. Nothing.
I began to go through the glorified book bag I carry around with me, packed with papers and post-its and personal items. All the things I am working on with no clear end in sight. What analog work could I create from this fiberglass picnic table?
Suddenly, the book I've been meaning to read popped out of my bag, Mary Poppins style.
I shook my head in wonder at the offering of time well spent packed in this tiny business book. I grabbed my pencil and began to go to town, reading all the wisdom I could while watching the people go by.
Bliss.
Too often, the shiny packages and abundance of goods rolling past captured my eye and I found myself wondering what answers to my life problems might be solved by a stroll through the store.
Knowing I had neither car to put oversized packages in nor the room in my budget buy much, I resolved to finish my chapter and then explore.
A treat in itself.
Seeing so many things I wanted but nothing I needed, I circled back to the front of the store. Only about 20 minutes or so had passed.
What would the next 3.5 hours have in store for me??
I checked the time on my phone and saw that the tire place had called me to come and pick up my car.
I was done.
RELEASED.
And yet, as I played bumper cars on the way to the exit, I felt an exuberance that merged on triumph.
I had resolved the issue of my car in a timely and appropriate fashion.
I had an adventure in a new landscape.
I had some great people watching.
I had started my new book.
And I had spent a short 80 minutes fully engaged in my experience.
Kinda like a long lunch period…….just like I intended.
The kernal of needing to buy new tires grew a mighty great flower, no?
Thank you, Universe.
warm wishes & cold cash,
Rhianna